Welcome to our Bockel branch!
The DAT AUTOHUS AG headquarters are perfectly located on the Bockel industrial estate - which is conveniently close to the major motorway A1.
Thanks to our over 25 years of experience in the German and European used car market, we have grown into one of the market leaders in this area.
We offer a huge choice of used cars of all of the most popular makes and models - arranged according to manufacturer. Our potential customers can convince themselves of the quality of the vehicle they are hoping to buy by taking it for a test drive on the premises.
We are looking forward to meeting you!
Browse Bockel vehicles now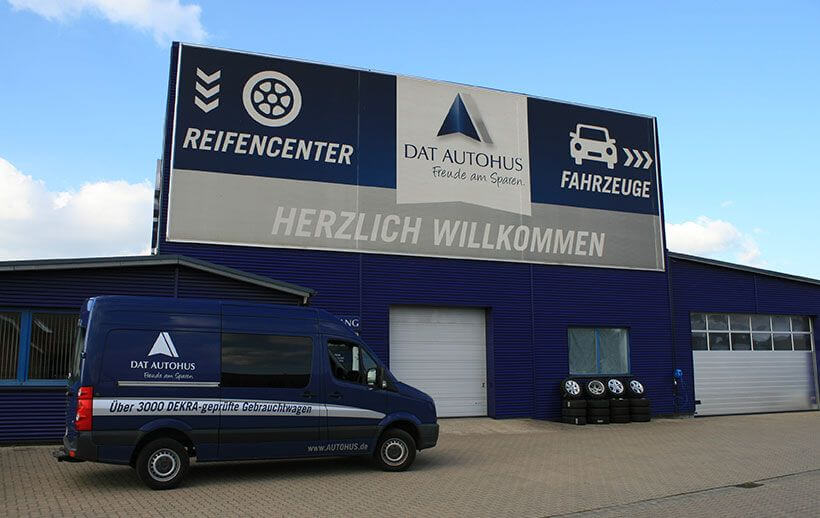 Our Tyre Centre
You'll find our Tyre Centre in a building with a thatched roof directly by the entrance to our premises. It has a wide range of complete second-hand wheel packages in good condition for sale.
Whether you are looking for second-hand summer or winter tyres - we stock a wide choice of suitable tyres for your vehicle at our Bockel branch.
We are also happy to order suitable new tyres for you; benefit from our special terms.

Nearby for you
To make our customers' time and experience at our branch as comfortable as possible, we have compiled a list of a few useful local services for you. Consult our list to find the nearest hotel, local vehicle licensing office, restaurant and taxi company.
Can't find anything that meets your needs?
Please do not hesitate to ask our staff; they're always happy to help.
Contact us now